August 23, 2021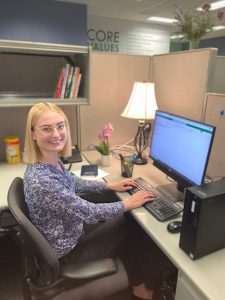 "The company culture at VIA is very open and welcoming. I really like how you can tell that everyone is true friends with each other. The communication within the office is extraordinary." -Summer Cerbone
It has been such a blast having an intern like Summer in the office. She has been such a great asset to our team and came in eager to learn about how VIA does data and evaluation.
Summer has been a huge help in her role and to the entire team. During her internship, Summer also completed many other tasks, including but not limited to:
Survey design
Data entry
Data cleaning
Project assistance
During her last full week, Summer led our weekly Thursday training session on the Enneagram. Her presentation explained what the enneagram is and how the personality classification system can benefit the workplace. While this was an excellent opportunity for her to practice and improve her presentation skills, the information in her slide deck created great discussion and curiosity among our staff.
Best of luck, Summer!
VIA's internship opportunities are strategically and intentionally planned to give our interns opportunities to develop professionally and be involved in every area of the company. Our hope is always that our interns gain skills that can be used in every aspect of their lives while we support a healthy work-life balance and accommodate their educational program.