October 13, 2020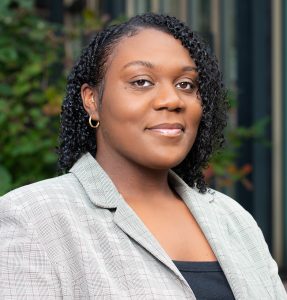 In September 2020, Via Evaluation Inc. hired Raiah Brown to fill the Marketing & Communications Specialist position, a role that is new to the data consulting firm. In this role, Brown will manage VIA's internal and external communication, using marketing and public relations strategies. This includes social media, material development, data visualization, proposal development, and outreach, to help the company continue to be a trusted leader in evaluation, research, and consulting.
Brown brings her varied experience in communications, including marketing and public relations. She's held various communications roles and internships within the non-profit and educational organizations, including, working as a Public Relations intern at Ronald McDonald House Charities, as a researcher's assistant at Syracuse University. She has also served as an alumni engagement intern at Medaille College, a public health associate at Roswell Park Comprehensive Cancer Center, and as a Senior Page for the Buffalo & Erie County Public Libraries.
Along with this role, Brown is a member of the Public Relations Society of America.
Brown is a 2020 graduate of the S.I. Newhouse School of Public Communications, at Syracuse University, and holds a Master of Science degree in public relations and Bachelor of Science degree in communication, from Medaille College.
Via Evaluation, Inc. is a woman-owned evaluation and data consulting firm that provides community-based organizations, schools, foundations and, other organizations with robust program evaluations and other custom data solutions. VIA is committed to providing expert, timely, responsive services. Visit viaevaluation.com from more information about the company is available at the company.
To learn more about our staff, visit our VIA Team page.