February 24, 2022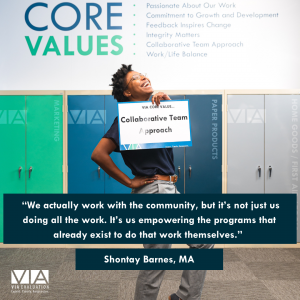 Shontay Barnes, MA, is currently an Evaluation Project Manager at Via Evaluation but had you told her in her undergrad days that she would one day choose this role and love it, she probably wouldn't believe it. Joining VIA in 2019 as a Research Associate, Barnes has continuously furthered her skills in each of her roles.
As a student, Barnes, a Buffalo native, did one of the best things a student can do when trying to figure out precisely what they want to do for the greater part of their lives. Attending the State University at Buffalo for both her Bachelor's and Master's degrees, Barnes's journey into evaluation began when she teetered on the career that she was sure she wanted to pursue-Forensic Psychology. While this seems like a world away from program evaluation, Barnes saw the parallels between the two and the differences that helped her discover why she favored program evaluation more.
During the spring before she began her Master's studies, Barnes had the opportunity to intern at the Erie County Forensic Mental Health Services. She interacted with patients and based her studies and research on her findings. This was an enjoyable educational experience for Barnes and the point where she realized that her genuine interest lies more in operations than direct service provisions. "I felt like it was too far removed from the community-level work that I wanted to do." She began her search to find a role that encompassed her love for data and community interaction. "It took me a long time to figure out what that was. I'd never heard of evaluation or anything like that." Finally, she found just what she was looking for when she saw a Research Associate job posting at VIA, which described exactly the work she wanted to do and the type of organization she wanted to work for.
As of November 2021, she was promoted from Senior Research Associate to Evaluation Project Manager and has been an absolute firecracker in this role. Barnes knew that she could and wanted to become a project manager, so Barnes began working on the skills she knew she would need and incorporating more professional development. When speaking with evaluation, there is no doubt that she is passionate about her work. "We actually work with the community, but it's not just us doing all the work. It's us empowering the programs that already exist to do that work themselves.", Barnes said.