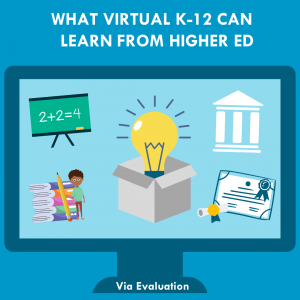 October 21, 2020
Written By: Deb Spearing
A 2017 report from the Brookings Institute observed that "online courses are difficult, especially for the students who are least prepared."1 It would be difficult to deny that the nation's K-12 public school students, who began virtual learning in the Spring of 2020 and continued virtually this Fall, are less-than-optimally prepared. Given the nature of the COVID-19 pandemic, there was only so much that teachers and parents could do to prepare students for online learning, so the burden of making online education a success fell largely on schools, which had to adapt materials quickly and try to achieve the same goals that we expect from traditional in-person education. By the time students reach college, many have enough experience with study and organizational skills, as well as technology operation skills, to succeed with remote learning, should they choose that path. However, higher ed also puts an incredible amount of resources towards making sure online education is an academically equivalent option for students. When colleges first realized the opportunities for cost savings and the ability to reach more students, a great deal of attention was paid to creating online educational experiences that achieved the same goals as traditional in-person education. Although public schools may not have the resources to develop their online teaching models to the degree that higher ed has, there are still lessons they can learn from higher ed's success with online learning.
Rely on Learner Choice to Enhance Motivation What Higher Ed Does
What Higher Ed Does:
In college, most students choose the content they want to study. In short, they've chosen a field of study that interests them or that they want to become proficient in. This doesn't stop some students from ignoring objectives, but choices do create a level of motivation that can be beneficial.
What K-12 Can Do:
For some subjects and grades, it can be challenging to give students choices. Sometimes the curriculum just needs to be taught whether every student is drawn to the subject matter or not. Whenever possible, though, empowering students by letting them choose the manner in which they want to learn a topic or letting them choose a specific topic to study can contribute to enhanced motivation and engagement with the material.
Separately Contracted Course Designers
What Higher Ed Does:
When institutes of higher ed made the move to online curriculum, they didn't simply move the course material into an online format (or if they did, they quickly learned that this wasn't the most effective way to teach virtually). Colleges and universities task teams of course designers and educators with designing virtual course content and populating course shells with calendars, assignments, resources, due dates, and automatic reminders to student and instructors.
What K-12 Can Do:
Schools did not have a lot of time to pivot to an online environment, and teachers definitely did their best to amend curriculum to an online format. At this stage, it's just important to acknowledge that all material might not be well suited to virtual teaching and learning. Whenever possible, teachers should be encouraged to modify assignments and timelines to fit the online environment. Teachers should also take full advantage of the tools available through their Learning Management System (LMS) to populate course calendars with due dates, upcoming assignments, and automatic reminders as early as possible.
Online Instructor Training/Certificates
What Higher Ed Does:
Before college instructors can teach online, many schools require certification in online pedagogy (either developed by the school or through some outside accreditor). They learn additional concepts related to andragogy that apply specifically to adults learning independently from one another and how to properly motivate learners in remote settings.
What K-12 Can Do:
Although added training on virtual pedagogy was not really a reasonable option this year, more colleges that offer degrees in childhood education are likely to devote entire courses to virtual learning or offer supplementary certificates in virtual learning in the future. Public school districts might start encouraging teachers to earn professional development credits by enrolling in these certificate programs to be more prepared in the event of future emergency transitions to online education.
Limiting the Use of Systems Implemented
What Higher Ed Does:
Colleges and universities typically engage with a single LMS that they are dedicated to using and often pay more for a system that is inclusive of all the features they need– grading, discussion boards, messaging, video chat, recording functions, etc. Students log on to a single platform and access every resource they need for the course right there, limiting the need for outside learning engagement tools.
What K-12 Can Do:
The K-12 space was forced into a bit of a scramble to use whatever resources were available to them to try to engage students with a variety of tools at a variety of price points (including some that are free, which is naturally very attractive). Districts should be having conversations about what platforms they want teachers to implement more heavily and developing guidelines for how they can limit excessive use of too many platforms. Although using multiple teaching and learning tools online has the advantage of providing rich learning experiences, navigating different platforms can be tricky for students, parents, and teachers. If students are missing out on an assignment because they couldn't find it on another platform, they aren't gaining anything from the experience being offered in the first place.
Rubrics, rubrics, rubrics…
What Higher Ed Does:
Within online college courses it is very common for every assignment, discussion, and gradable task to have a rubric attached to it with very clear expectations for students. Many times, the rubric is loaded directly into a grading area where instructors can then use it to assign points to the different parts of the assignments and have grades tallied automatically as they work. In addition to rubrics for student work, instructional designers adhere to their own rubrics when designing online courses to ensure that the online courses are creating the same educational touchpoints as the equivalent on-ground classes. What K-12 Can Do: Most assignments in K-12 education will likely also have a rubric, and it can be helpful for teachers to upload those rubrics in an interactive format within their LMS to enable more efficient grading. In regards to ensuring that courses meet educational goals for students, districts can ask teachers to review rubrics for the educational goals they are trying to achieve and think carefully about whether or not those goals are still going to be achieved when modifying assignments to an online format.
Defining and Evaluating Student Success
What Higher Ed Does:
A great deal of formal and informal analysis regarding online learning in higher ed has been conducted in recent years. Because adult learners often have more choice about where to complete their education, colleges and universities have an economic interest in whether or not their students are enjoying their classes, not just succeeding in them. The most common criteria that assessments use to rate online courses are student-faculty contact, cooperation among students, and active learning. Clear course navigation and the availability of student support in accessing materials are also consistently evaluated. The least evaluated criteria is how much time students are required to spend on course materials.3
What K-12 Can Do:
There is clear cost-benefit analysis to be considered when recommending that K-12 districts invest resources in evaluating the relative success of their transition to online learning. Obviously, it makes more sense for higher ed to pinpoint areas of improvement in online learning because it's going to remain a profitable offering for years to come. Meanwhile, parents, teachers, administrators, and students are all hoping for a rapid conclusion to our reliance on virtual learning. Still, there are a number of ways that districts can take a closer look at their students' success in virtual learning through the reporting features of a Learning Management System or survey administration.
If you want to learn more about how VIA Evaluation can help your school gain a better understanding of operating virtual learning for student success, contact us!
Refrences
1. Bettinger, E. & Loeb, S. (2017). Promises and pitfalls of online education. Retrieved from http://www.k12accountability.org/resources/Online-Education/Promises_and_Pitfalls_of_Online_Ed.pdf 2. Baldwin, S.J. & Trespalacios, J. (2017). Evaluation instruments and good practices in online education. Retrieved from https://scholarworks.boisestate.edu/cgi/viewcontent.cgi?referer=https://scholar.google.com/&httpsredir=1&article=1172&context=edtech_facpubs