Weitzel Presenting at ASW:NYSAN Afterschool Conference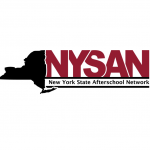 Jessica Weitzel will be presenting a workshop session on creating logic models at the AfterSchool Works! NY: the New York State Afterschool Network Annual Conference this Friday, April 15th. If you are in Saratoga Springs for the conference, join Ms. Weitzel at 11am Friday for an interactive session on "How to Create Useful Logic Models".
The workshop will include instruction on the basics of logic modeling and hands-on group work. Participants will walk away with a handout of logic model components, and a draft logic model for their afterschool programs.